Common Hope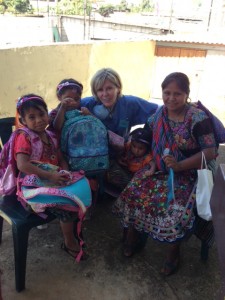 Common Hope promotes hope and opportunity in Guatemala, partnering with children, families and communities who want to participate in a process of development to improve their lives through education, healthcare, and housing. Each year, Dr. Norling and her assistants Theresa and Diane volunteer in Antigua and in the rural village of San Rafael which is located about 45 minutes from Antigua. The village population is entirely indigenous and supports itself with agriculture. Many of the families live in homes with dirt floors and makeshift walls.
This has become an annual trip for Dr. Norling and her dental team. She feels blessed that she read about Common Hope in her church bulletin and made the decision to see if she could lend a hand with dental care. As she puts it "I told them I might not be good at building houses but I am good at building smiles!".
Each year she has enlisted the help of friends and colleagues and the Greg Scherer/Norling team has become an annual trip. She has also been joined several times by her brother John, her nephew and niece, and other friends as Vision Team members in an ever expanding team! Thank you to Sara Gallagher, Melissa Cozart, Bob and Anne LaCosse, Jerome Cha and Quincy Attipoe and of course my right and left hands Theresa and Dianne.